Come join us for our awesome upcoming workshops!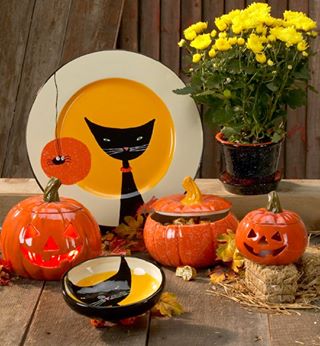 Get ready for the Fall with our Harvest Moon Kitty plate. This kitty and her spider friend will help make your spooky holiday all the more festive. Come learn how to make this purrfect plate with our step by step instruction.
Date: 10/18/14
Time: 6:00 – 8:00pm
Ages: 5+
Price: $38 includes material fee
Fall Studio hours are:
Sunday – 11am – 5pm. Monday –  Closed
Tuesday – 10am – 6pm Wednesday – 10am – 6pm Thursday – 10am – 6pm  Friday – 10am – 6pm Saturday – 10am – 6pm  
Open late during workshops and by appointment.
At The Art Beat we offer a creative studio environment with a variety of activities for different age groups starting from preschool up to and including adults! Our instructors and staff are friendly, helpful, and knowledgeable. We love art! We offer open studio time, teach classes, host parties, instruct groups, rent space, and even take the kids for an evening! We have a beautiful space we are proud to show off. Not sure what you want to do? Well, come in for open studio for a few hours of creative fun. We have a variety of projects to choose from.
Come alone or bring your friends and family. We would love to have you!
Click Here to join our e-mailing list!
Click Here to like us on Facebook!
Click here to download our printable registration form.